Doctors Prescribe Heavy Metal During Surgery to Keep Man Alive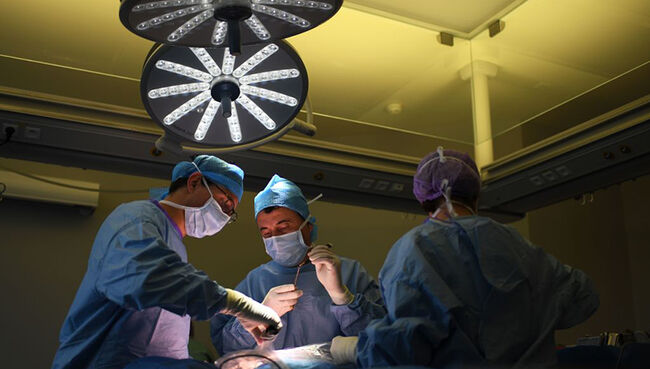 A Eugene, Oregon-based musician who was nearly killed by a diverticulitis attack last year says the doctors who performed a series of life-saving surgeries on him played heavy metal in the operating room.
That musician/patient was guitarist/vocalist Mike Scheidt. The music the doctors played was by Scheidt's own influential underground metal band Yob.
Scheidt recalled during a recent interview with Rolling Stone surrounding his band's upcoming eighth studio album that during the highest-stakes operation he underwent (a marathon procedure that took nearly 9 hours) Scheidt's doctors put on his own music. They hoped, he surmised, that even in his anesthetized state the familiar sounds would urge his body to keep working.
"I was pretty messed up," Scheidt told Rolling Stone. "They decided to play Yob in the surgery room. Maybe they were worried about me and wanted to keep me there. They thought that might help."
Scheidt suffers from diverticulitis, a painful and potentially fatal abdominal disease in which pockets in the colon become infected, sometimes rupturing and spilling bacteria onto nearby organs.
The guitarist had been managing the disease with diet and exercise before suffering an attack during a trip to the grocery store in January 2017. The musician said that the pain was so overwhelming that by the time he reached the hospital, he was in a psychedelic state of delirium.
In the coming weeks and months, after more operations, Scheidt was eventually allowed to play guitar again. He described a "manic" period of songwriting that ensured.
"[There] was no guarantee that I was going to live long enough to record the album — or maybe even [live] long enough for my bandmates to hear it," he said.
While Scheidt said he had medical insurance at the time, his plan didn't cover all of his bills. His fans and friends raised more than $30,000 for his bills through GoFundMe.
"Being given all of that and being able to channel it into new music, and having recorded it and put it out into the world, I have this overall sense that this wouldn't have happened without every single bit of what I was given in this process," he said.
The music Scheidt wrote became the new Yob album, Our Raw Heart, which is set to be released this June. He tells Rolling Stone that his health has improved enough now that he'll be back on tour in June.
Photo: Getty Images