The Most Popular '80s Movie In Every State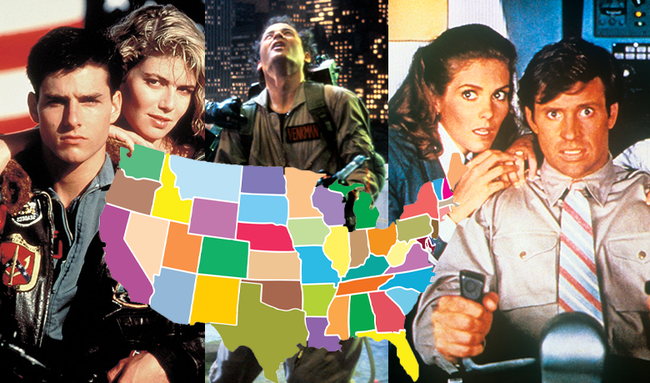 Some of the greatest movies ever made came out during the 80s. The decade was filled with gripping action films, hysterical comedies and striking dramas, and the wizards at HowToWatch.com did enough research to figure out which one of those amazing films is the favorite in each state.
By examining lists of top 80s films and Google search results from the past year, they came up with some fascinating findings which speak to each state's make-up, culture and tastes.
One of their biggest takeaways is that residents favor flicks with local connections. Among the states with favorite films that have to do with the area were Colorado, whose citizens love The Shining, which has the Rocky Mountains as a backdrop; Illinois with Ferris Bueller's Day Off since the movie takes place in Chicago; Maine with Stand By Me, where the coming of age story goes down; New York with the Big Apple-based gangster film Once Upon a Time in America, Oklahoma with The Outsiders, which is set in Tulsa; and Oregon with The Goonies, which takes place and was filmed in Astoria.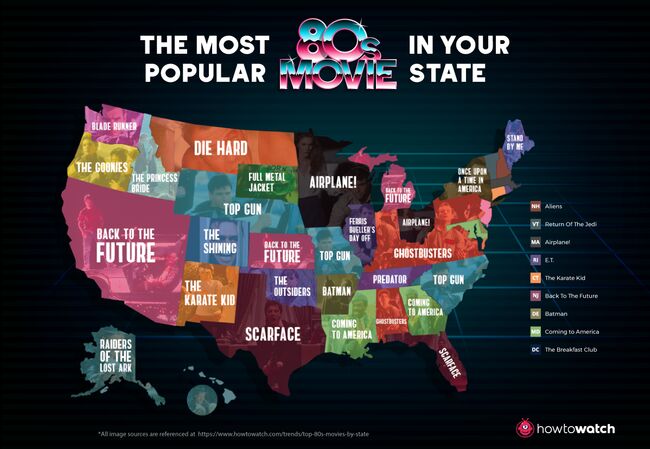 Other interesting results - Florida and Texas, states with large Cuban American populations, loved Scarface, a film that spotlights a Cuban immigrant. Meanwhile, the dreary Washington state seemed to relate to the rainy scenes in Blade Runner. And speaking of sci-fi, New Englanders love the genre. New Hampshire's favorite 80s movie is Aliens, Rhode Island's is E.T. and Vermont's is Return of the Jedi.
As for the most popular flicks, Back to the Future is loved by seven states, Ghostbusters is the favorite in six, and five states adore Airplane!
Elsewhere, the newest states, Hawaii and Alaska, both couldn't get enough Raiders of the Lost Ark. Idaho was the only one of the 50 to have The Princess Bride has its favorite, and Tennessee loves Predator, though maybe its residents were just looking up the Nashville NHL team and stumbled on the movie.
See a full list and where you can watch each movie on demand here.
Photo Credit: Getty